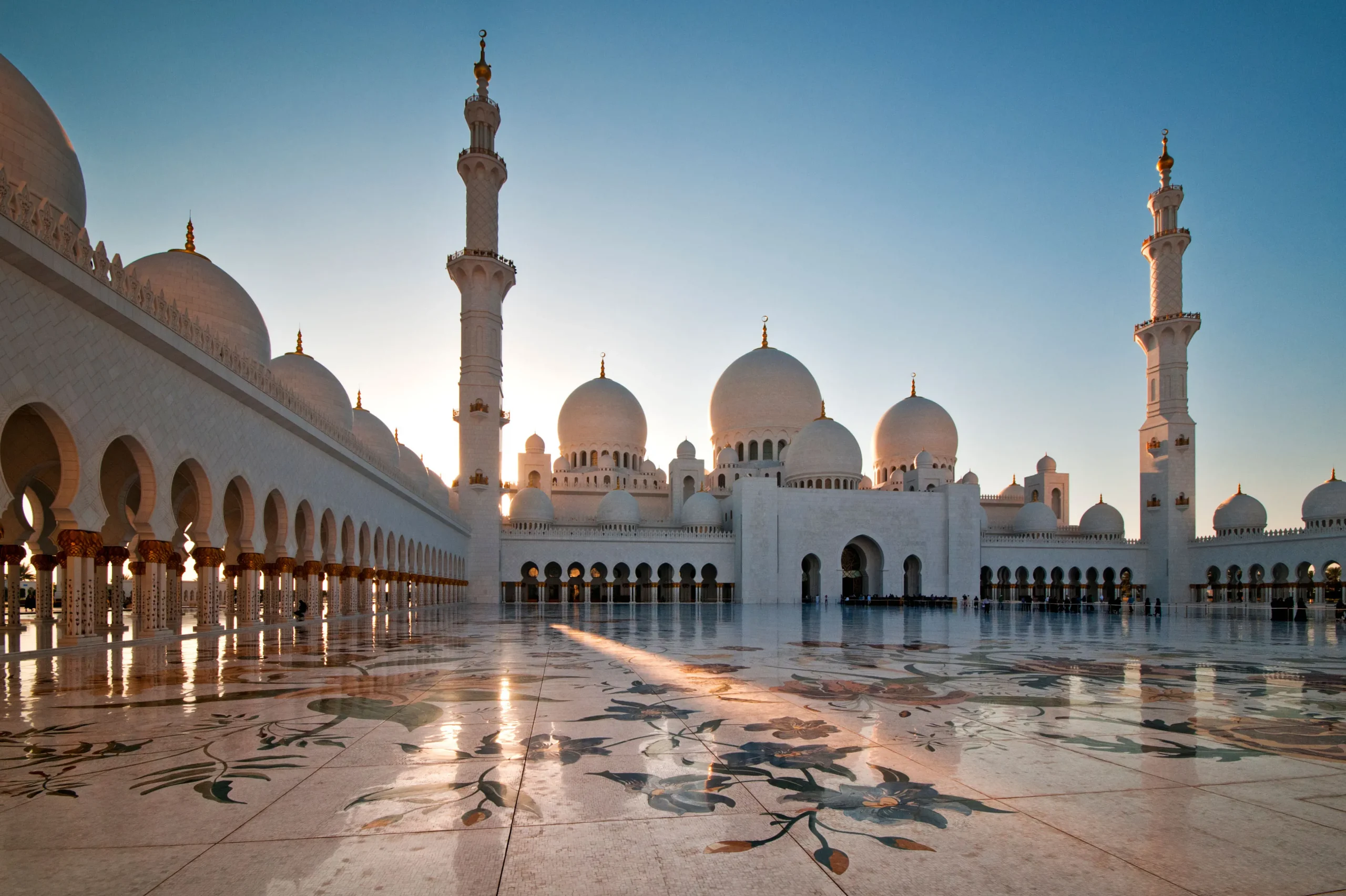 Fajr

4:53
Sunrise

6:11
Dhuhr

12:15
Asr

15:41
Maghrib

18:18
Isha

19:48
PRAYER TIMES TODAY IN ABU DHABI
Performing prayers (salah) in Islam is an important duty that every Muslim must fulfil five times a day (FaJr, Dhur, Asr, Maghrib and Isha).
You can check the exact time to pray, every day in Abu Dhabi, consulting our service called "Prayer Time in Abu Dhabi".
It is one of the major pillars of Islam and a way to create stronger ties with God (Allah).
Praying cleanses the heart and soul of Muslims and is a compulsory act. While praying, the Muslim enters a physical, mental and spiritual act of worship while facing Mecca.
Muslims stand, bow and prostrate themselves. For every posture, they recite a prayer or verses from Quran that is the holy book of Islam.
Salah is also called dua which translates to petitions to God. Before a Muslim can perform salah, a ritual ablution must be performed by repeating rak'ah and fard. The number of fard which should be performed depend on the time of the day.
WHAT ARE THE PRAYER TIMES IN ABU DHABI TODAY?
Every location has a unique time of prayer which also changes on a daily basis.
With Prayer Time Dubai you have an accurate prayer times for Abu Dhabi every day.
You can find out timings of Fajr, Dhuhr, Asr, Maghrib, Isha and sunrise.
Prayer times for Saturday Sep 23, 2023 in Abu Dhabi are


Fajr: 4:53
Sunrise: 6:11
Dhuhr: 12:15
Asr: 15:41
Maghrib: 18:18
Isha: 19:48
Prayer times for this month in Abu Dhabi are:
September 2023


Day
Fajr
Sunrise
Dhuhr
Asr
Maghrib
Isha

23 September


Rabi Al Awwal 08
4:53
6:11
12:15
15:41
18:18
19:48

24 September


Rabi Al Awwal 09
4:54
6:12
12:15
15:41
18:17
19:47

25 September


Rabi Al Awwal 10
4:54
6:12
12:14
15:40
18:16
19:46

26 September


Rabi Al Awwal 11
4:55
6:12
12:14
15:39
18:15
19:45

27 September


Rabi Al Awwal 12
4:55
6:13
12:14
15:39
18:14
19:44

28 September


Rabi Al Awwal 13
4:55
6:13
12:13
15:38
18:13
19:43

29 September


Rabi Al Awwal 14
4:56
6:14
12:13
15:38
18:12
19:42

30 September


Rabi Al Awwal 15
4:56
6:14
12:13
15:37
18:11
19:41